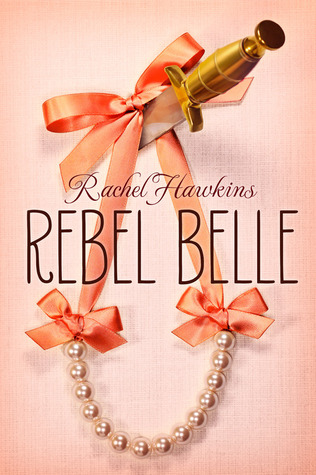 Book:
Rebel Belle
Author:
Rachel Hawkns
Publisher:
Putnam Juvenile, 345 pages
Goodreads
Rating: 4/5 stars
Synopsis:
Harper is just your typical southern belle teenager, enjoying her junior year of high school. On the night of homecoming, when Harper is expecting to win Homecoming Queen, she is suddenly thrown into a world unknown to her. She witnesses the murder of the school custodian, who before he dies, passes on his magic powers and strength to Harper. Haper soon realizes that her power is to protect David Stark, her competitor since childhood. Will Harper accept the power bestowed upon her or will she ignore everything?
Review:
Rebel Belle
was a fun, light read. I was captivated throughout the story and wanted to find out what was going on and how the story would end.
Having never grew up in the South, it is always interesting to read about how it is custom to be polite all of the time (I thought it was just a Canadian thing for awhile). I liked reading about how Harper spent time with her family and baked cake for her aunts.
I was intrigued b the struggles that Harper had to go through with her boyfriend Ryan. As a reader, I could tell they are not meant to be together but their relationship becomes more interesting as the story ends.
Bee was also a character I enjoyed reading because of how loyal she is to Harper. Loyalty is very important to me in friendship. One character I found hard to like is Saylor Stark. I don't why she had to lie to David about his family and I found her methods to protecting David to be hasty.
I thoroughly enjoyed reading Rebel Belle and give it ****/5 stars. I am excited to read
Miss Mayhem by Rachel Hawkin
s, the second in this series of books. Have you read
Rebel Belle
, is so, did you enjoy the plot? What about David Stark, did you not fall in love with him?