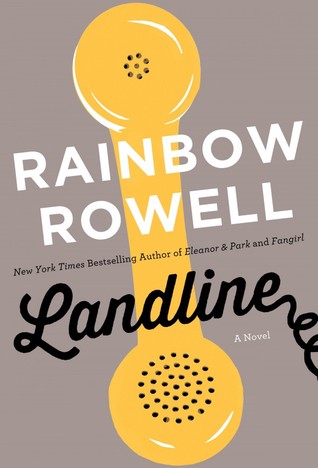 Book:
Landline
Author:
Rainbow Rowell
Publisher:
St. Martin's Press, 2014
Rating:
***/5 Stars
Synopsis:
Georgie McCool is a wife to Neal, mother to two young daughters, best friend to Seth, and is a sitcom writer living in California. Neal is a stay at home dad who studied microbiology but hated the ocean.
Georgie and Neal's marriage seems to be rocky, Georgie always busy with her career and Neal getting left behind. When Georgie and her best friend Seth's show gets interest from a producer, they are told they have to write so many episodes before meeting the producer after Christmas. This means Georgie has to stay in California over the holidays while Neal and their two daughters go to Omaha.
Through a landline telephone, Georgie is able to communicate with her husband but is everything as it seems through the landline communication? Will Georgie and Neal's marriage make it after the holidays?
Review:
Being a big fan of Rowell's books, I thought I would give her adult novel,
Landline
a read. This novel is filled with the same witty dialogue as her other novels and tackles tough problems in the same light but are the characters as likable? I did not think that Georgie and Neal were likable. I liked Georgie's best friend Seth and her sister Heather but Georgie and Neal were both selfish in so many ways. Neal clearly loved Georgie to no end but could never understand her ambition nor her friendship with Seth. Georgie took advantage of Neal always being there to do everything with the kids that she didn't realize the sacrifices that Neal made to do it all.
I liked the use of the landline phone to communicate back in time, I thought that was an interesting plot line for the novel. However, I could not understand how Neal's phone was dead for the holidays. No matter how angry you are at your wife, would you actually not do anything in the way of communicating with her over Christmas?
Seeing where the novel was going and who the characters were, I was actually rooting for Seth to get with Georgie at times. Seth was there before Neal and has always been Georgie's rock. I thought he was the only one who showed an ounce of human quality.
Overall, I think Rainbow Rowell did a good job at portraying human beings, their flaws and all, in a real way. You could connect with the characters but you didn't have to like them. I give
Landline
3/5 stars.
Have you read Landline by Rainbow Rowell? Did you like it? Did you find the characters to be likable?
Don't forget to be awesome,
Tara