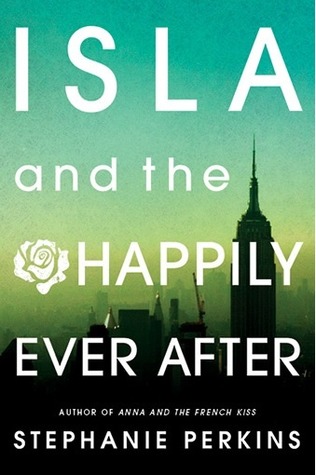 Book:
Isla and the Happily Ever After
Author:
Stephanie Perkins
Publisher:
Dutton, 2014
Rating:
***** 5/5 stars
Synopsis
:
Isla is a senior at a boarding school in Paris where she has a secret crush on a boy named Josh. A happenstance meeting in New York City where they are both from leads to flirtation that lasts into the school year where they fall in love. Upon certain circumstances, Josh is forced back home and Isla and Josh have a hard time communicating their feelings. Will their love last, who knows?
Review:
I am a big fan of Stephanie Perkin's
Anna and the French Kiss
(Hint: St. Clair and Anna make an appearance in this book) but I did not like
Lola and the Boy Next Door
. So I was unsure of what to expect from
Isla and the Happily Ever After
but upon starting the book I knew it was going to be a winner for me.
The setting of the book is in Paris which is what I loved about
Anna and the French Kiss
and it features comic books, hints of political life, and romantic getaways to Spain. Isla is a very likable character even she becomes jealous and self-depricating. I feel like Isla is a character that girls can connect with.
Josh is the perfect boy to fall in love with. He is head over heels in love with Isla and would risk everything just to be with her. I love his loyalty to his friends and his motivation to become a comic book artist.
I thought that Isla and Hattie's relationship was very interesting and I liked how things were resolved between the two of them at the end of the book. I have a similar relationship with my older sister and I could highly relate to Isla and Hattie.
Overall, I give
Isla and the Happily Ever After
5/5 stars for being a cute and honest love story set in Paris.
Have you read Isla and the Happily Ever After? If so, did you like it? How did it compare to the other two Stephanie Perkins novels? Did you like Lola and the Boy Next Door because I did not! Let me know what you think in the comments!
Happy reading,
Tara