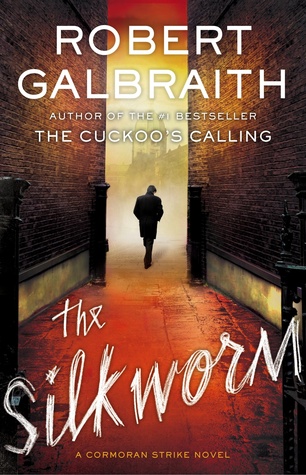 Book:
The Silkworm
Author:
Robert Galbraith
Publisher:
Mulholland Books, 2014
Rating:
*****/5 stars
Goodreads
Synopsis:
In this sequel to
The Cukoo's Calling,
the story continues with a third person narrative about a detective named Cormoran Strike who served the UK in Afghanistan where he lost his leg. Having gained a little fame from solving the Lula Landry case, Cormoran receives a new case by a woman who finds her husband missing.
Mrs. Quine's husband is a mediocre writer who socializes in the publishing world but has gone missing (something he opt to do from time to time). However, upon finding the author, Cormoran leads into more of a mystery than he expected to have. With a gory murder scene, eccentric authors and publishers, and a budding friendship with his assistant. Robin,
The Silkworm
has proven to be just as good as
The Cukoo's Calling.
Review:
As a huge Harry Potter fan, I must say that reading a murder mystery novel by Jo Rowling (her pseudonym is Robert Galbraith) seemed a little strange at first. Upon thinking about the Harry Potter series though, I realized that part of the fun about reading that series was the suspense and mystery behind it all. Mystery is what Rowling is good at and I have to say she brought me into a genre I had very little knowledge of until now.
My favourite part about reading
The Silkworm
is that I don't particularly love Cormoran Strike. Cormoran is abrasive and sometimes obtuse with the people he cares about. For someone who reads well into situations, he hardly prepared for the dinner situation with his sister. As a reader, it is refreshing to read a character who you route for to solve the case and prove himself time and time again but also to not really like him socially.
In both
The Cukoo's Calling
and
The Silkworm
, the murderers were not obvious and I was always left wondering who did it until the cases were solved. I really enjoyed how the mysteries were not predictable (keep in mind, I am used to child mysteries I watched/read as a kid).
I am wondering if Cormoran and Robin will eventually get together? I am thinking that is what Rowling is leading up to and I think they would work perfectly together.
Overall, I give
The Silkworm
by Robert Galbraith *****/5 stars. I loved the plot development, narrative, and suspense throughout the book.
Have you read either The Cukoo's Calling or The Silkworm? If so, what did you think? Do you think Rowling does a good job of crossing from children's fantasy to murder mystery?
DFTBA,
Tara