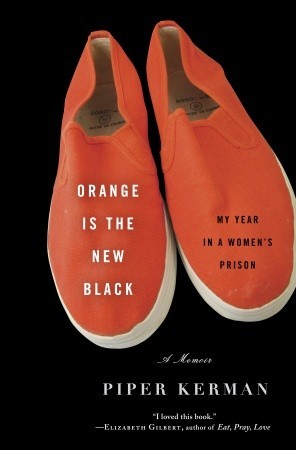 Book:
Orange is the New Black
Author:
Piper Kerman
Publisher:
Spiegal & Grau
Rating:
****/5 stars
Goodreads
Synopsis:
Upon graduating college Piper begins a relationship with a girl named Nora who is involved in drug trafficking. Before Piper knows it, she is participating in illegal activities. When Piper finally gets out of the relationship she starts anew and begins a good life with a guy named Larry. Years later she is contacted by authorities and goes through court proceedings before being sentenced to just over a year in prison. Piper writes a true story of her time in prison, the people she meets, and the lessons she learns.
Review:
Orange is the New Black
is one of a few non-fictional memoirs I have read and I have to say it was enjoyable. Piper wrote about prison in a very realistic way in which the reader doesn't constantly think "Oh poor you" about the main character.
Piper Kerman does come across as very privileged in comparison to her other inmates and her experience is probably not like that of most people in prison but she does a good job of telling the reader about the conditions of prison. How the GED program was cancelled for a bit and when it was reinstated, the people who completed the program were very enthusiastic as it was a huge accomplishment for them.
I also thought when Kerman wrote about the lack of resources for inmates who are preparing for the real world when they leave. The point of prison is to prevent crimes but when there are a lack of resources available to the inmates, when they leave they are likely to go back and end up in the same situation. While Piper had an education and was well networked, she mentioned that many of her peers had no work records and could not look for work while in prison because they did not have access to computers.
I think Orange is the New Black showed me that in prison the inmates aren't just sitting in sells (unless you are in solitary confinement) but you are working and communicating with other people. Overall, I would give
Orange is the New Black
by Piper Kerman ****/5 stars.
Have you read
Orange is the New Black
? If so, did you like the book? Have you seen the Netflix adaptation?
DFTBA,
Tara