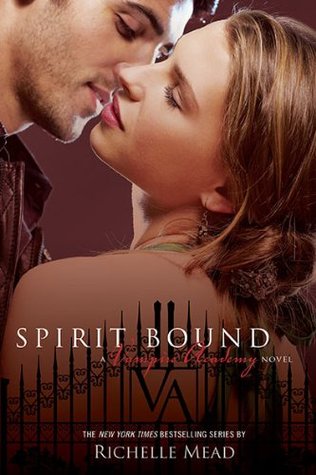 Book:
Spirit Bound (Vampire Academy #5)
Author:
Richelle Mead
Publisher:
Penguin Razorbill
Rating:
****/5 Stars
Goodreads
Synopsis:
Rose is back in the United States from her trip to Russia which resulted in a failed attempt to kill her Strigoi (lethal vampire) love interest, Dimitri. Now she is graduating from St. Vladimir's Academy with the fear of Dimitri coming after her for revenge while she sets on a mission to find out how to bring Dimitri back from the undead. With a prison break, a hostage situation, and an assassination, what will happen to Rose and her friends in this next installment of the Vampire Academy?
Review:
I think that Spirit Bound was definitely an action packed novel filled with twists and turns but I was disappointed in Rose's character. The reader knows that she has a temper and is not afraid to state how she feels in front of very important people but it was so frustrating to see that she let her weaknesses shine during very vulnerable times. Huge developments in the Moroi world were happening and she was mouthing off to the Queen which I was incredibly frustrated by.
In
Frostbite,
when I was introduced to Adrian's character, I did not like him. He seemed like he was a rich snob trying to seduce teenage girls. My opinion changed as the series went on to the point where I felt sad for Adrian, especially when reading
Spirit Bound
. The fact that he loves Rose so much and is willing to be with her when she tries to bring Dimitri back from the dead and continues being with her through so much more is really heartfelt.
SPOILER, DO NOT READ IF YOU HAVEN'T READ THE BOOK. : Dimitri's characterization was interesting in this novel. He immediately wanted to distance himself from the one person who he was always connected with. I understood why he did not want to be around Rose but it was awful to read. However, at the ending he showed that he cared so much for her that he wouldn't let people arrest Rose without a fight.
I gave
Spirit Bound
4/5 stars because it was very captivating although frustrating to read the characterizations. I can't wait to wrap up this series as it has been a fun ride.
Have you read
Spirit Bound
, if so did you find it frustrating to read about Rose's impulsive tongue?
Happy reading,
Tara