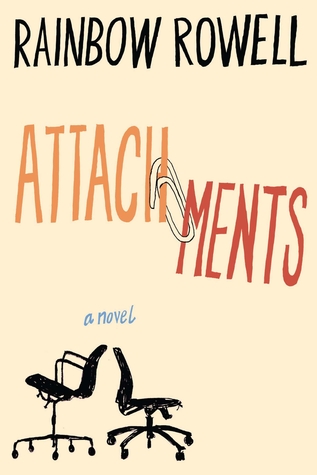 Book: Attachments
Author:
Rainbow Rowell
Publisher:
Dutton Adult
Rating: ****/5 stars
Goodreads
Synopsis:
Lincoln had a tough breakup with his high school sweetheart in his first year of college. Having never recovered from that, he spent years in academia. Now 29 years old and on the cusp of a new millennium, Lincoln finds himself in a job for a newspaper where he is sent flagged e-mails through the companies e-mail server and sends people warnings when they have written inappropriate e-mails. Lincoln finds his job insanely boring and he knows on some level that this is wrong but he does it anyway because the pay is good but low and behold, he reads an e-mail that is flagged and he finds the conversation to be funny and interesting. Instead of sending them a warning though he keeps reading and falls in love with one of the girls sending the e-mails.
Review:
Attachments
was the perfect novel. I have said this again and again, Rowell knows her readers which is evident in her first novel,
Attachments
as well as
Elearnor & Park
and
Fangirl
. What I loved about this novel was the simplicity of Lincoln's life and how he wasn't even looking to fall in love with someone but it happened and not in a way that he could share with the girl he was in love with without seeming creepy.
I found the idea of falling in love with someone before meeting them was so new in this book because of the setting, 1999 which was really interesting. It is completely plausible for someone to look at your Facebook, Twitter, and any other social media before meeting you and now it is less creepy (although still somewhat weird). I think Rowell writes era pieces in such a way that shows just how new things were (the walkman in Eleanor & Park and having your own batteries).
SPOILER, DO NOT READ IF YOU HAVEN'T READ THE BOOK:
I didn't love the ending which makes it a 4/5 for me. I thought the way they met in the theater was great but then she said what he did was wrong. I know they needed to clear things up why wouldn't they have cleared things up before making out in a theater? To me it wasn't realistic but that could be my own issue.
Overall, I give
Attachments
by Rainbow Rowell 4/5 stars. I thought it was beautiful in so many ways, the pacing was perfect. I did not like the grammar mistakes throughout the book nor was I in love with the ending.
Have you read
Attachments
by Rainbow Rowell? If so did you like it? I can't wait for
Landline
to come out this summer so I can read it enjoy Rowell's humour.
DFTBA,
Tara